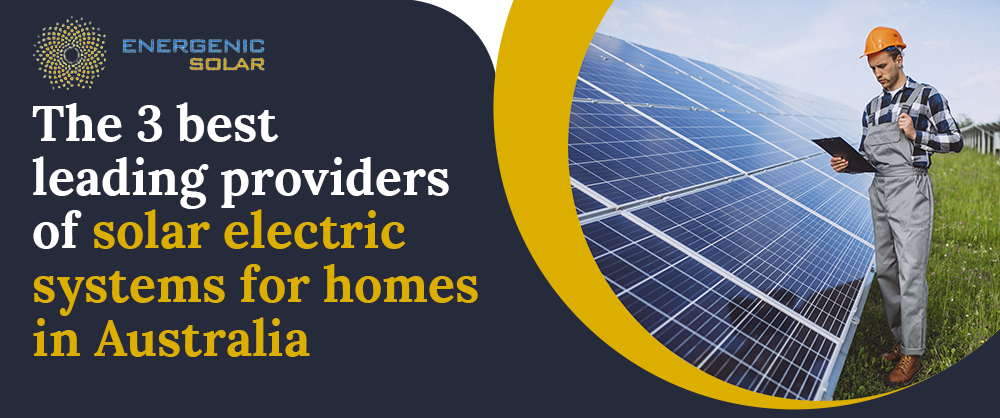 The 3 best leading providers of solar electric systems for homes in Australia
The 3 best leading providers of solar electric systems for homes in Australia
The Sun, which sits directly above us, is one of the most reliable and safest natural light and heat energy sources. The Sun provides 10,000 times more energy to our planet than our people consume. That's a lot of power to harness, and we could enhance a lot of jobs, land, and communities by just switching to a clean energy source. 
Solar power is a concept that most Australians are familiar with. After all, Australia is known as the world's sunniest country. However, if you've ever looked into purchasing solar energy systems for your home, you're well aware that having a "concept" isn't enough to ensure you make the appropriate investment.
When you search online, you'll find a list of providers, products, and warranties, all claiming to be the best for the least amount of money. However, we've compiled a list of the best solar energy system companies in Australia.
The best part about going solar in Australia is they are available at low prices. You use your electricity bill to pay for your system without any out-of-pocket cost.
When it comes to installing your solar system, there are a few things to keep in mind. The first and most important factors are your roof size and style, household positioning, and budget. It's your solar installer's job to inspect your roof and according to it lay out your options in the form of a quote. 
Also, look into such factors as the solar system's performance, installation process, durability, and setup cost.
Solargain Solar Panel Installer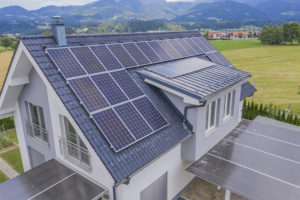 Solargain, an Australian-owned and operated solar retailer, has installed more than 65,000 solar panels around the country since 2005. On various occasions, Solargain solar electric system for homes offers discounted deals on specific systems for homes.
A Clean Energy Council Approved Solar Retailer, Solargain, claims outstanding customer service, with its own dedicated after-sales solar service department.
Solar power systems are designed to be tough and reliable, and regular maintenance is the best way to keep everything functioning well.
Solargain's 'Longevity Guarantee' means they make good or find an equivalent replacement for your system within the original warranty period. 
This year Solargain installations ratings came out on top, with a clean five-star rating in every research category. This overall covered satisfaction, customer service, performance, durability, and cost of installing the solar system.
Solahart Solar Panel Installer
Solahart is probably best known for its solar electric system for homes and hot water systems; with operations dating back to 1953, Solahart also retails solar panels and energy storage solutions. Solahart made its humble beginnings in Western Australia, and now they are the best leading provider of solar electric systems for homes in more than 70 countries. 
The Clean Energy Council Approved Solar Retailer claims it holds its practice to a high standard, and Solahart installers are highly trained to the Australian's highest standards to ensure the safety and effectiveness of your system.
Solahart has installed more than one million solar systems worldwide. They always start with a free on-site solar assessment, rigorously test your systems for the harshest Australian conditions, and guarantee the performance of every product they sell.  
Most importantly, they offer solar electric systems for homes, solar hot water, solar power, battery storage, and Solahart PowerStore – Australia's first solar-smart electric water heater.
Solahart got five stars for customer service, durability, and installation process, while it scored four stars for setup cost, the performance of the solar system, and overall satisfaction.
Origin Solar Panel Installer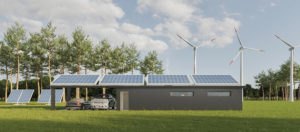 Origin is Australia's biggest retailing solar energy provider. Currently, Origin offers three main solar panel packs in its range, though it also claims to cater to its customers' requirements. The Origin solar electric systems for homes only have two battery storage options, the Tesla Powerwall and LG Chem. 
This solar installer also advertises a two-year interest-free payment plan for those who'd rather pay their big investment off gradually. Origin also provides customers who purchase solar through them receive a slightly inflated feed-in tariff when signing up to its Solar Boost Plus plan.
They provide a range of renewable energy options to thousands of Australians. Their growing Australian and international portfolio includes wind, solar, and storage technologies. Origin uses a range of energy sources to make electricity, from traditional fuels like coal and natural gas to renewables like the wind and the Sun. Origin is one of Australia's top energy providers, dedicated to making energy more affordable, sustainable, efficient, and simple. They provide power, natural gas, LPG, and solar to their clients.
Origin received mainly four-star ratings across the board, including overall satisfaction and solar system performance. It did, however, receive five stars for the cost of setup.
Related Posts